The photos of the pot by Sérgio Moro. Brazilians went to the windows to knock on pots and shout: "Out, Bolsonaro!"
The Brazilians demonstrated at the window against the departure of the Minister of Justice, who also resigned in protest against the President of Brazil. "Get out too, Bozo!", Asks a Twitter user.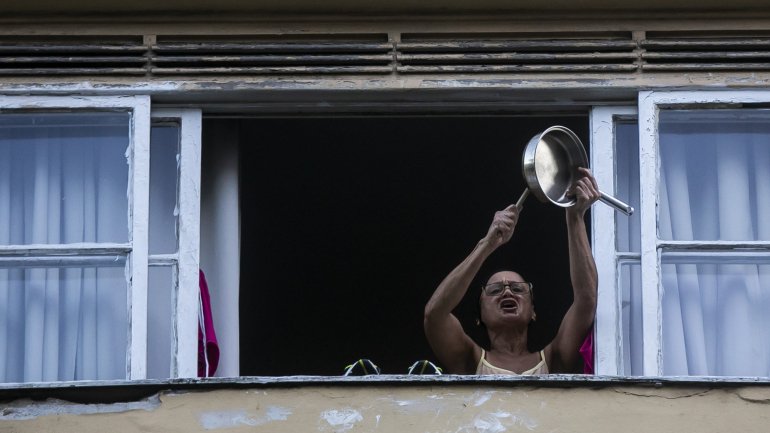 The screams mix – and even go unnoticed – with the sound of Brazilians hitting pots. At the window and on Friday morning the the people of Brazil protested the resignation of the Minister of Justice , Sérgio Moro, who resigned, also he in protest against the president of Brazil – who the Brazilians really wanted to get fired. At least those who shouted at the window: "Fora, Bolsonaro" , reports the G1 portal.
The protests were carried out in several Brazilian cities. São Paulo, Rio, Fortaleza, Recife, Belo Horizonte and Florianópolis are some examples. And they happen at a time when Bolsonaro has been the target of strong criticism for the way he is dealing with the new coronavirus pandemic – which has already dubbed the "gripezinha", but it has already killed almost four thousand Brazilians.
On social media, some users were sharing videos that recorded the moment of the protest. "Panelaço before noon? Unprecedented! Always fair cause. Bolsonaro out, "reads a publication. "Get out too, Bozo!" , asks for another user.
Panelaço before noon? Unprecedented! Always fair cause. Outside Bolsonaro. #bolsonarotraidor #ForaBolsonaro #BolsonaroGenocida #moro #SergioMoro #coço #bh pic.twitter.com/whPZh3XDpx

– Nunuse (@nunuse) April 24, 2020
After the resignation of Moro, pot in Jardim Botânico. pic.twitter.com/3Bx9NkLyl7

– Leo Aversa (@LeoAversa 01) April 24, 2020
Panelaço #ForaBolsonaro now in Pompeii, during a Moro press conference. Get out too, Bozo! pic.twitter.com/zfJ4gxzXMn

– Tantã (@taniara 34) April 24, 2020
Panelaço here on my court in Brasília after Moro's speech! It fell, Bolsonaro !!! pic.twitter.com/lqeRuST6dh

– Guilherme Cabral Nobrega (@Guilherme_dogbh) April 24, 2020
[Veja na fotogaleria acima algumas imagens do panelaço desta sexta-feira]