Spain. As of May 2, a "new normal" can begin
A path to "a new normal" that will be done "as a team", but with "several stages". In an announcement to the country, Pedro Sanchéz, the head of the Spanish government, announced that there is a plan to reopen.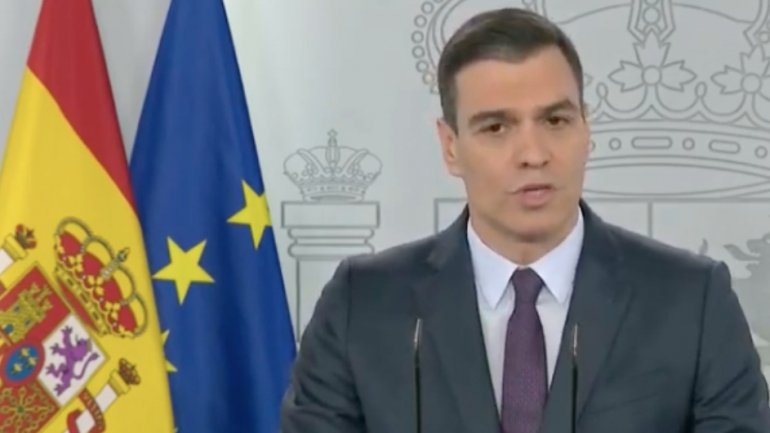 In a message to the country in the early evening (20 h from Madrid, 19 h from Lisbon), the chief of the Spanish government, Pedro Sánchez, made the announcement that many Spaniards want to hear. "From May 2" Spain will start to open "gradually" to a "new normal". However, the message was always "prudent", noting that everything can be canceled. "It cost us too much to get here," says the Spanish chief.
We must be very cautious, we do not have an infallible manual. There is no country in the world that has managed to return to this new normality. (…) There are experiences, yes, but from countries with different political and social systems ", also stated Sanchéz.
For now, what is certain is that on Tuesday the Spanish executive will approve this strategy which, "gradually", will give greater mobility to the Spanish. "This [abertura] will be followed by a new one week later (…) if the pandemic continues in a positive direction, as of May 2, they will be able to practice sports individually or go for walks with the person with whom they live . "
However, there was an idea that the governor kept repeating: the reopening will happen" if the evolution of the epidemic is favorable as it is to be until now ". "Prudence and unity will be our guides," he declared. "We are going to do this in stages," he explained as well. These steps refer to the "opening [gradual] of stores, restaurants, sports, religious activities" , among other businesses.
It will be the Ministry of Health that, in the coming days, and based on the evaluation that we make the experts who are advising us, who will definitely decide if this measure will be adopted to practice sports and go out with the person with whom they live ", explained Sanchéz.
According to the politician, citizens will have "specific rules" for know what they can and cannot do. However, it is only on Tuesday, and after meeting with health officials the next Monday, that they will be announced, together with the plan. For now, it has been confirmed that it will foresee this "gradual" and "cautious" opening, which will take place during the month of May and which may extend until June.
If, so far, the main indicator that the Spanish government is trying to control is the number of positive daily cases, starting in May, with this plan for a "new normality", there will be another : the capacity of the health units in each region . This is because, with the possibility of new outbreaks already being foreseen, it is necessary to be trained, said Sánchez.
It cannot be just this criterion [número de contágios diários]. The assessment we have to make is more complex. It is necessary to define a series of objective parameters to reach normality – a normality that will not be like the one we had before. "
Among the "objective criteria" are the health units, namely with intensive care. "Let us not risk what we have achieved so far and guarantee the necessary capacities for each territory in the event of a possible outbreak," he said. This is because, there remain questions that Sanchéz assumes he does not know how to resolve: "One of the fundamental issues that we will have to incorporate in this reduction [de medidas de confinamento] is the control of international borders. This is one of the debates that we are having. "
Still, he warned: "We will have to keep the social distance and the hygiene measures that we have learned ". He continued: "There are countries that have chosen to provide a linear response. We will not do that. We will define a series of indisputable objective indicators on the basis of which the different territories return to the new normal. "
Questioned about the forecasts, namely of the International Monetary Fund (IMF), on the economic impacts of the virus in Spain, Sánchez stressed that, at this point, it is very difficult to make accurate predictions. "What is evident is that the consequences [económicas e sociais] are terrible, they are tremendous, in Europe and in the world ".
In addition, he also stated: "The EU must contribute to a major 'Marshall plan' for reconstruction (…) The important thing is to avoid the error of the confrontation. (…) Our union is the force that can make us overcome the virus (…) The only enemy is the virus, which has hatred, fraud and division as allies ", he also stressed.
On Tuesday [dia da aprovação do plano de reabertura], the What we are going to do is to improve this climbing plan and we are going to assess the strategic needs that are needed and decide which territories and locations are going to have less confinement requirements. It is essential to be aware that there is no territory that is at the margin of the virus ", he stated.
"We have to be smart as we assume this new reality in our daily lives", he said, explaining that care will have to be reinforced "until we find a cure ". And he guaranteed: "We will not leave anyone behind. We have been putting in place social and economic measures to try to maintain the productive fabric, the jobs created in companies. "
Even so , we will not look at expenses to fight the virus: "We are in debt because we want to save lives. We are at war [contra o vírus] and there must be solidarity ", he said in response to a criticism that the Dutch Prime Minister made to the Spanish accounts.