Demonstrations in Lisbon and Porto to welcome 13,000 refugees from Moria to the EU – Observer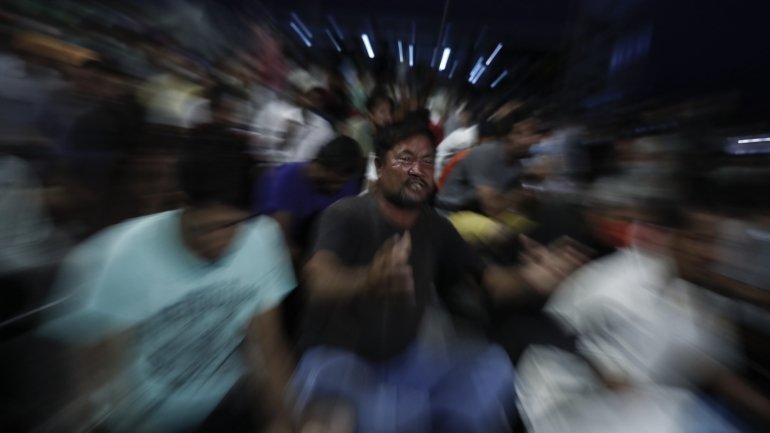 More than two hundred people took part this Sunday in Porto and Lisbon in a demonstration which demands the reception in the European Union of about 13,000 refugees from the Moria camp in Greece, devastated this week by a fire.
The actions were organized by the Humans Before Borders (HuBB) collective, as part of the "Evacuar Moria já" campaign, like other European countries, with the aim of "putting pressure on the government and awakening civil society" so that the refugees can be dispersed in EU countries, said Lusa Raul Manarte, a humanitarian psychologist and one of the organizers.
"It is such a terrible and incredible reality that it is our duty to show what has happened in the last five years, the conditions are deplorable, they are neither admissible nor imaginable. There is no hot water, no electricity, no psychiatrist on the island. I have had minors with panic attacks because they learned that the family had died in Afghanistan and I had to withdraw them to meet people who had been stabbed, "said the musician, who was in in the camp on the Greek island of Lesbos in February.
In Porto, in front of the Portuguese Center of Photography (former Relação Chain), a hundred people ended up joining the demonstration which followed the rules of the General Directorate of Health for covid-19, with social distancing and use of masks , holding posters that could read: "We are in the same boat", "Solidarity has no flags" or "My name is Europe and I saw nothing".
The story of a Portuguese woman in the Moria refugee camp: "The situation is total and absolute chaos"
In addition to the activists' reports, there was also a long audio recorded during and after the fire in the refugee camp, also marked by police violence that followed with tear gas fired under the displaced people who demanded better conditions and called for freedom.
Earlier this month, 25 unaccompanied minors from Moria arrived in Portugal and the government has pledged to welcome 28 more by the end of the month, in addition to the availability shown by the executive to welcome 500 unaccompanied children and the bilateral agreement with Greece, which provides for the reception of up to 1,000 people from the various refugee camps in the Hellenic country.
"There is no lack of economic and human resources, this giant wheel of national and international politics only turns if civil society pushes it very hard and all together, when this happens, things continue. We drew attention to Moria, awareness increased and we were heard in Parliament. By going to Parliament, we were able to increase the pressure and the government decided to take in minors. Is there a lack of action from civil society or government or is one thing dependent on the other? Raul Manarte asked.
Ten EU countries welcome 400 children from Moria
For the psychologist, who has participated in several humanitarian missions in other countries, civil society has a decisive power to "capitalize on political will" and admitted that progress has been made, both in society and in the classroom. policy, using today's action as an example. which was planned two days in advance and a fundraiser during the pandemic which had "an incredible response".
"Civil society lacks two things: access to accurate information and options for action, ie showing what it can do to help. If they don't know what's going on, they won't do anything, if they're just flooded with depressing news, without feeling like they have the power to change something, they won't do anything either. We are trying to give both information and options for action, "he said.
As in the northern city of Lisbon, "between 100 and 200 people" took part in the demonstration which took place in front of the D. Maria II theater, which "ironically" displayed the message "welcome home", according to the activist Sofia Grilo.
Portugal is available to welcome minor refugees from Moria
In addition to organizing this type of action, the HuBB collective undertakes to send one letter per day to the Prime Minister, the Minister of Foreign Affairs, the Minister of State and the Presidency and the Minister of Internal Administration. .
"Letters and demonstrations will continue until there is action, in addition to intention and goodwill. For things to work, they have to be done for the long term, because it disappears and decision-makers no longer feel this pressure, you always have to put the issue in place and bring civil society together without overloading it. We don't want to discourage people with so much bad news, we want to increase empathy and encourage action, "concluded Raul Manarte.
Greece. Nine-month-old baby dies of dehydration in Europe's largest refugee camp
Thousands of families have been sleeping on the asphalt, on the sidewalks or in the countryside in Lesvos for several nights, after the massive fires on Tuesday and Wednesday, which destroyed the registration and identification center in Moria without causing any casualties .