The Minneapolis Apple Store is closing its doors for good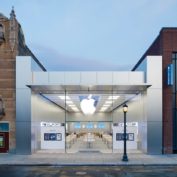 Apple is always proud to announce the opening of a new store. Conversely, Apple store closures are much less advertised, not to mention they are infinitely less common. During the pandemic, however, the "software" changed a little, as many Apple stores had to temporarily close due to the pandemic. In the case of the Apple Store in southern Minneapolis, the closure is unfortunately permanent.
Due to the pandemic, the store had been closed since March. In a statement to the 60 employees at the Apple Store, Apple confirmed this time that the Apple Store will never reopen: "Our stores in Minneapolis-St. Paul has been looking after customers for 19 years and our nearly 500 team members have been helping our customers for a long time. Although we made the difficult decision to finally close Apple Uptown, all valued team members will be offered other positions within Apple, and we look forward to continuing to serve our customers in our four stores nearby. ""
It is worth remembering that the Utpown Apple Store in Minneapolis was badly damaged during the Black Live Matters demonstrations in honor of George Floyd. However, Apple would have decided to close it permanently before these events.