Luna: The demo of the cloud gaming service on the iPhone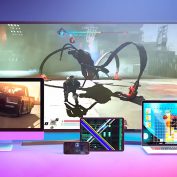 Amazon recently unveiled Luna, a cloud gaming service that competes directly with Stadia and Microsoft xCloud. Good news for iOS gamers: Luna will be available on the iPhone / iPad via a PWA (Progressive Web App), which can be accessed directly from the service's website. Journalist Brad Sams from thurrot.com was able to try out the service in various configurations for a long time, especially with an iPhone X (7 minutes and 12 seconds in the following video). The games start without any problems on the iPhone, but the journalist notes significant latency in the controls (an Xbox controller connected via bluetooth).
However, it should be noted that this is a beta. In addition, Amazon already promises us that the controller dedicated to the Luna service will provide a much more responsive gaming experience. When it is actually available (somewhere in 2021) it will be possible to connect to Luna by subscribing for $ 5.99 / month.