iPhone 12: Apple evokes autonomy, 5G, MagSafe and the missing charger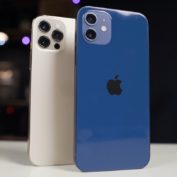 Kaiann Drance, Apple's vice president of iPhone marketing, interviewed Rich DeMuro. As we can imagine from the news, the main topic of discussion was the iPhone 12.
Autonomy and 5G with the iPhone 12
One question concerns 5G support. Tests have already shown that the autonomy is reduced by two hours compared to use in 4G. Kaiann Drance ensures that Apple has made optimizations at the iOS level "to improve autonomy". She especially talks about the Smart Data mode which makes the iPhone 12 use 5G when needed. The rest of the time the connection is 4G. It's good for autonomy. Kaiann Drance adds that Apple has been working with operators to achieve tweaked settings, which in turn should add to autonomy.
IPhone 12 resistance
Rich DeMuro then asked Kaiann Drance about the durability of the iPhone 12. Apple says its new phone is four times more drop-resistant than before. Is it therefore still worth putting on a screen protector? The Apple manager declined to say so. However, it indicates that the iPhone 12's straight edges help limit damage in the event of a fall. She also says the back of cell phones has the thickest glass on a smartphone to date.
MagSafe
Another topic was MagSafe. Apple offers a card holder that is attached to the back of the iPhone 12 with magnets. But can't cards be demagnetized? Should be fine with bank cards. On the other hand, Kaiann Drance advises against putting cards like badges in hotels that serve as keys.
Charger is missing in the box
After all, it was about the famous charger that was missing in the box. Apple offers a USB-C to Lightning cable in the box, while most customers who had an iPhone have a charger with a USB-A connector. Therefore, you cannot use the new cable.
Kaiann Drance states that customers can use their "old" cable and "old" USB-A charger. She also says that some may already have a charger with a USB-C plug because they have a different brand of smartphone or a technological product that comes with that type of adapter. She adds that people with a Mac or iPad can plug them in using the USB-C ports to charge the iPhone 12.