MagSafe charger: traces on iPhone 12 cases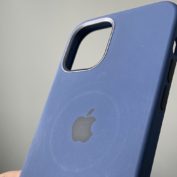 Apple waited for the iPhone 12 and iPhone 12 Pro to be released before asking users to be careful. The manufacturer announces that use of the MagSafe charger can leave marks on the back of leather cases.
It's a wireless charger. It is especially optimized for the iPhone 12 as it allows a charge of 15 W. It fits the iPhone thanks to the magnet system. Unfortunately, the accessory with the leather bags won't be very friendly.
You get it: using a MagSafe charger when you have an iPhone 12 protected in a leather case is not a good idea. Or you need to have fun removing the shell with each load. It's not really an ideal situation.
In fact, traces can also be found on silicone cases. Photos posted on the MacRumors forum show the brands in question. A circle is formed around the Apple logo. To say this is already out as the first magazines and hulls shipped this week. We can imagine the result in a few months or a year …
Some information about the MagSafe charger
By the way, Apple gives some information about the MagSafe charger. The manufacturer does not recommend placing credit cards or IDs between the iPhone and the MagSafe charger. These objects can be demagnetized. Also, iOS can limit the charge to over 80% if the iPhone gets hot in the wireless charger. If an iPhone is in the MagSafe charger and it is connected to a Lightning cable at the same time, the charging process takes place via the cable.
Apple also explains how to clean the new accessories. The user should unplug the MagSafe charger and remove any residue from the metal ring. He should then use a soft, slightly damp, lint-free cloth to wipe the silicone center. Apple states that glass cleaners, household cleaners, sprays, solvents, ammonia, abrasives, or detergents containing hydrogen peroxide should not be used.