IPhone 12/12 Pro Teardown: The screen and the battery are interchangeable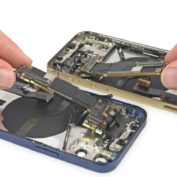 iFixit went on to demolish the iPhone 12 and iPhone 12 Pro. That way, you'll learn a little more about the guts of the new Apple phones. We find that several components are interchangeable.
This is particularly the case with the screen. The disassembly shows that it is possible to put the iPhone 12 screen on top of the iPhone 12 Pro and vice versa. However, it's good to point out that the Pro model has a bit more brightness. When you put iPhone 12 screen on iPhone 12 Pro, you won't get exactly the same viewing experience. But at least it will have the merit of working. iFixit adds that one battery can go in the other too. It's 2,815 mAh.
iPhone 12 on the left, iPhone 12 Pro on the right
The website notes that the two iPhones are very similar inside. You could almost believe that they are the same two phones if you just look at the components and the location of each phone. Of course, the iPhone 12 Pro has some special features such as a third photo sensor and a LiDAR scanner. In this regard, iFixit says that both iPhones have the same port on the photo sensors.
The haptic engine (Taptic Engine) has shrunk. The speakers have a different shape.
Upon arrival, the iPhone 12 and iPhone 12 Pro get a score of 6 out of 10 for self-repairing (the iPhone 11 got the exact same score). Most of the components are modular, which is a good point. It is stated that strengthening the water resistance measures can make some repairs difficult. Finally, the front and rear windows double the risk of falling. If the rear window breaks, you'll need to remove every component and replace the entire frame.
Disassemble the other two iPhone 12s for later
As a reminder, the iPhone 12 and iPhone 12 Pro have been available since Friday. The iPhone 12 mini and iPhone 12 Pro Max can be pre-ordered on November 6th and released on November 13th. These models can be dismantled at this point.